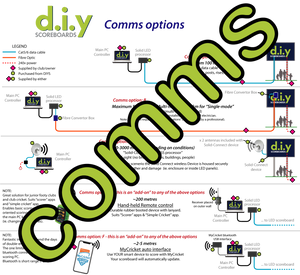 Comms guide
$25.00

$25.00
Tax included.
Shipping
calculated at checkout.
---
---
This is a download-only document. Several pages PDF format.
You need to figure out HOW you are going to CONTROL your new scoreboard.
There are many solutions.
With current technology anything is possible (like controlling the scores from another country!). We've tried everything over the years.

In the end "Simplicity" is our aim. We want your weekend at the club to not stress you out.
"Complexity" equals headaches.
The products and processes we provide are tried and tested. Also backed up with thorough support documents.
The image is a brief grab of our Comms doc. If you're serious about your project you will need the full PDF version. Several pages with clear information, option descriptions & actual photos of parts and connections.
The cost of this document will be redeemed in FULL if a future purchase of LED scoreboard panels is made (over 1m²).
Must be the same buyer. Offer valid for 30 days after LED panels are paid in full.