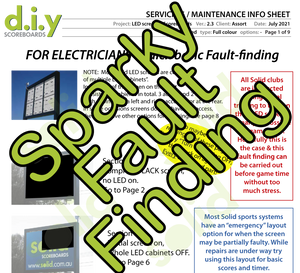 Sparky Fault-Finder for LED scoreboards
$200.00

$200.00
Tax included.
Shipping
calculated at checkout.
---
---
This is a download-only document. Several pages PDF format.

You can easily diagnose most LED faults by what you are looking at...
Our Sparky Fault-Finder is a great start to repairing most LED scoreboard faults.
Of course, with electronics, there could always be deeper issues.
This guide will safely cover 90+% of issues.
Our team is always here for advice should you hit a wall.
This doc covers mostly "LED hardware" issues, NOT PC or software issues.
This doc is specific to LED Video Screens - NOT old-style Digit scoreboards.
NOTE: ONLY QUALIFIED ELECTRICAL PERSONNEL SHOULD HAVE ACCESS TO LED COMPONENTS. POTENTIAL ELECTROCUTION HAZARD for untrained repairers.
The cost of this document will be redeemed in FULL if a future purchase of LED scoreboard panels is made (over 1m²).
Must be the same buyer. Offer valid for 30 days after LED panels are paid in full.